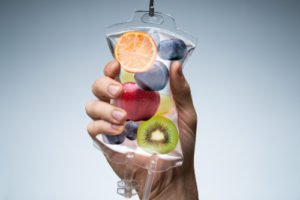 It costs nothing to have an initial consultation about which IV therapy might be the best option for you. After the consultation, the cost of IV therapies you might be interested in will depend on the type of IV therapy you select and the number of sessions you schedule.
Why People Use Drip IV Therapy
According to the Center for Disease Control and Prevention (CDC), hardly anyone gets the nutrients they need from a typical American diet. Even if people consume fresh fruits and vegetables, the nutritional quality of the produce in the grocery store today might not be as good as what people grew for themselves generations ago.
People lead high-stress, fast-paced lives. There is little time to sit down and eat a nourishing meal with the family or to de-stress. Many people go through life sleep-deprived. A lifestyle like this can wreak havoc on a person's health and well-being.
The immune system can become weak. Some people get one cold after another. Productivity can go down when a person feels sick frequently. It is hard to stay ahead of the competition while battling constant illnesses.
Not getting enough essential nutrients can make a person feel exhausted and look older. The skin can lose its youthful tone, the hair can become thin, and nails can become brittle. Eventually, a person could become more vulnerable to illness, get depressed, and lose interest in sexual activity.
For a free consultation, call (305) 682-1818
How IV Drip Therapy Can Help
IV drip therapy comes in many different formulations, each designed to achieve a specific outcome. Below are several examples.
KickStart Blend
The KickStart IV drip blend can help jump-start the path to better nutrients and a more robust immune system. The ingredients in this formulation can increase metabolism and make it easier to lose fat and maintain a desired weight. You can achieve fitness and athletic goals with the extra energy that KickStart can provide.
The Executive
Highly-competitive people can always use an advantage over others. It can be challenging to keep focused and motivated when a person is exhausted from many late nights at the office. The Executive formula increases energy and helps you stay alert and mentally sharp.
LiquiLift
LiquiLift IV treatments contain a lot of nutrients. The "top shelf" formula can help the liver function better to help remove toxins from the body. A patient can feel revitalized and motivated through the use of Liquilift IV.
Glutathione
An IV therapy of this kind infuses the body with an antioxidant that many people lack in sufficient quantities. Glutathione levels can get lower than recommended because of aging, life stress, and an inadequate diet. Signs of depleted glutathione in the body include getting sick easily, feeling tired much of the time, and looking older than you should. A boost of this antioxidant can help a person look and feel younger and stay healthier.
Vitamin B12 Deficiency and IV Therapy
Vitamin B12 deficiency is common in the United States. Lacking sufficient levels of B12 can affect fertility, memory, energy, and mental health. A doctor can combine other nutrients with vitamin B12 in our IV drip therapy to bolster the immune system and wellness.
B12 is a substance found in eggs, poultry, and fish. Due to dietary restrictions, many people do not consume enough of these foods to get the amount of vitamin B12 the body needs. IV therapy can bridge the gap between the nutrients a body requires and the food a person eats. The cost of IV therapy can differ based on needs, as no one body is the same as any other.
Click to contact our specialist today
What Happens During IV Therapy
Healthcare professionals can administer and watch over IV therapy sessions. A session only takes between 30 and 45 minutes as an outpatient service. Whether a busy lifestyle prevents a person from getting the nutrition and sleep they need or a patient's digestive system does not absorb vital substances from food or oral vitamin supplements, IV therapy can replace what the body lacks.
People with stomach sensitivities to vitamins usually can take IV drip therapy without digestive upset because IV drip goes straight into the bloodstream instead of to the stomach. Certain prescription drugs can also interfere with a person's ability to take or break down and use some nutrients efficiently.
You can relax comfortably and let qualified personnel do the rest. In less than an hour, you can emerge from a clinic brimming with health, vigor, and stamina. You can help your body rid itself of toxins and better fight off sickness.
Complete a Free Consultation form now
What Happens After IV Therapy
People use IV therapy for many reasons, including:
To reap the restorative benefits that the nutrients in the IV drip provide
To achieve younger-looking skin, nails, and hair
To acquire a better mood and less anxiety
To manage stress
To look younger and age more slowly
To stay healthy
Whatever the reason a person might seek out IV therapy, there is likely a blend that is ideal for their goal.
For a free consultation, you can call HealthGAINS today at (305) 912-8828. A better life is just around the corner.
Call or text (305) 682-1818 or complete a Free Consultation Form