Testosterone is thought of as a "male hormone" but it also plays a vital role for women. It is normal for a woman's testosterone levels to change throughout her years, but when this important hormone is out of balance it can create a lower quality of life. All it takes is a consultation with a hormone specialist to find out how much better you can feel.
Not feeling like yourself? Are you experiencing inexplicable symptoms that are interfering with your life? A hormone imbalance related to poor testosterone levels is often the reason why you may not be feeling your best. Yes, even for women!
A woman's health and overall well-being can suffer when she produces testosterone at levels that are too low or too high. Let's take a look at why a hormone imbalance in women due to testosterone is a significant problem, how you can tell if this particular hormone imbalance is affecting you, and how you can keep it under control.
The Function of Testosterone in Women
Contrary to popular belief, testosterone for women is just as important as it is for men. 
A woman naturally produces testosterone in her adrenal glands and ovaries which contribute to a number of different processes throughout the body. This important hormone has several key roles to play in the overall health and well-being of a woman. Some of these benefits include:
Helping to regulate mood

Supporting reproductive tissues

Supporting bone health and growth

Increasing lean muscle mass

Maintaining a healthy sex drive

Helping to keep body fat at healthy levels

Preventing vaginal atrophy in menopausal women

Supporting cardiovascular health
These may just be some of the most discussed benefits that testosterone can have when at normal levels in a woman's body, so it's no wonder why it has become so important as a part of an aging woman's health. 
But in order to gain the most benefit from this, the levels of this hormone need to be just right. Too much or too little of it can have a major impact on how the body functions and operates.
For a free consultation, call (305) 682-1818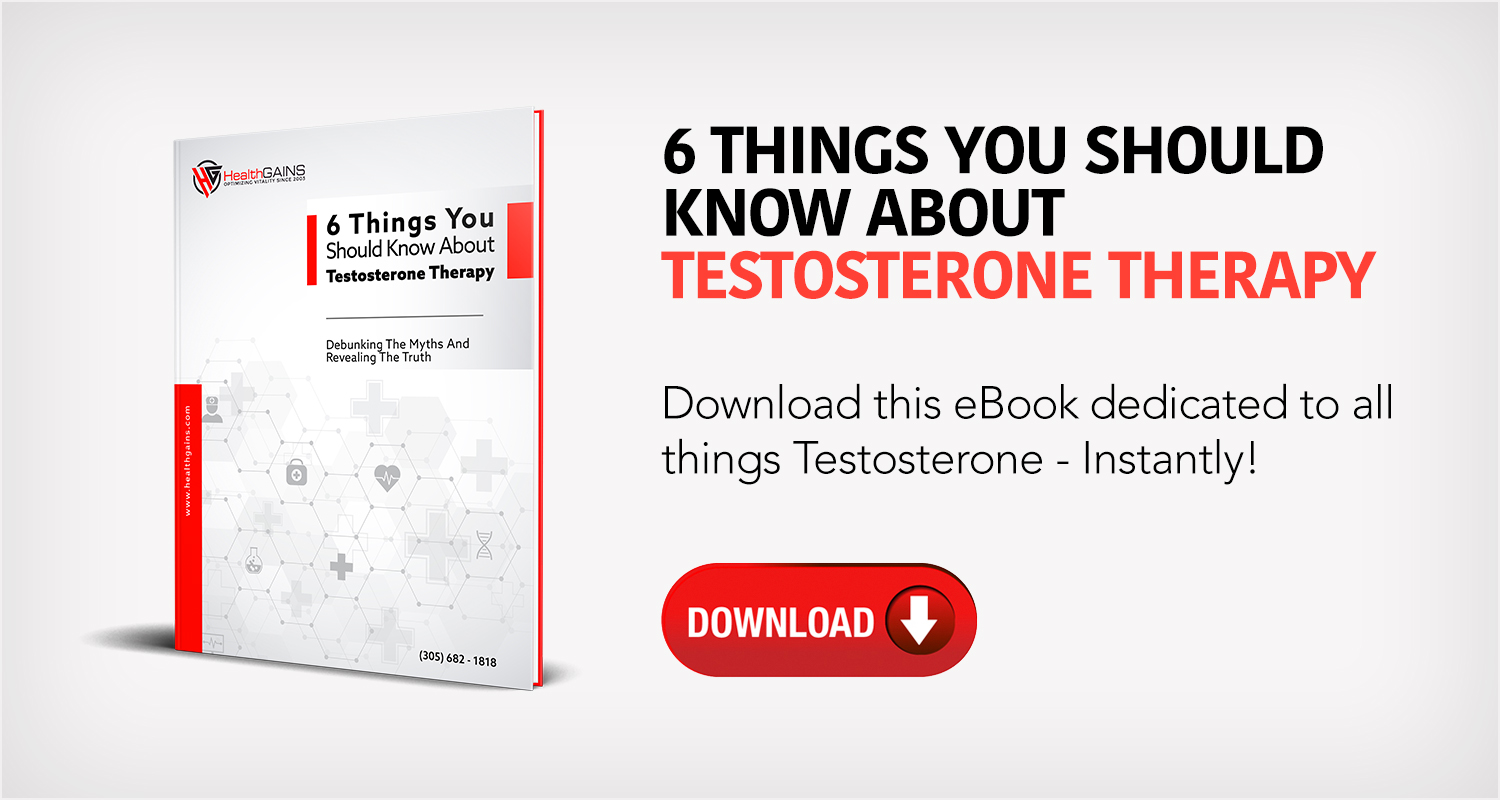 Women's Symptoms of Low Testosterone
How does low testosterone levels manifest in women? In the short term, women with low testosterone levels may see weight gain, loss of interest in sex, or mood changes.
In the long term, other more serious symptoms can manifest, such as cardiovascular disease, loss of memory, or decreased bone density that can result in fractures.
Some other symptoms of hormone imbalance that indicate your testosterone may be too low include:
Thinning or loss of hair

Dry skin or discoloration

Loss of muscle mass

Increased body fat

Anxiety or depression

Loss of strength

Painful or uncomfortable sex due to changes in vaginal fluid

Frequent feelings of fatigue or lack of motivation
Possible Causes of Low Testosterone in Women
Primarily, for the aging woman, low testosterone production is a natural result of declining hormones throughout the body at the approach or onset of menopause. That said, there are other factors that can contribute to abnormal levels of testosterone, including:
Long-term use of oral birth control or contraceptive skin patches

Ovarian dysfunction due to diseases, chemotherapy, radiation, or menopause.

Use of medications such as opiates or anti-hypertensives

Tumors on various glands such as the pituitary gland
Click to contact our specialist today
Women's Symptoms of High Testosterone
Just like having too little testosterone can have adverse effects on the body, so too can having too much. Those suffering from too much testosterone may notice:
Excessive amounts of acne

Abnormal hair growth such as on the face and chest

Hair loss on the scalp

Voice deepens and becomes masculine

Breasts become smaller

Clitoris becomes enlarged

Irregular menstrual cycles

Weight gain
High testosterone effects on women can be more serious causing infertility and an increased risk for metabolic syndrome, which is linked to obesity and conditions such as diabetes and heart disease.
After menopause, high testosterone levels can make a woman more susceptible to having insulin resistance making diabetes more probable.
This is one of the primary reasons women over the age of 40 begin to look at and think about the levels of hormone within the body.
Complete a Free Consultation form now
Possible Causes of High Testosterone in Women
The cause for high testosterone levels in women is mostly due to endocrine disorders or steroid use.
Polycystic Ovary Syndrome (PCOS) is a hormonal disorder that increases testosterone levels. Also, conditions such as congenital adrenal hyperplasia, a genetic disease often diagnosed at birth or puberty are often responsible for high levels of testosterone.
Women who have used or abused steroids can spike their testosterone or other androgens leaving them out of balance and with a variety of undesired symptoms.
Diagnosing Abnormal Testosterone levels
Low testosterone in women is much more common than high, but both present real challenges for women trying to manage their health as they age. Low T is frequently a contributor or cause for depression, stress, menopause, or other problematic, age-related conditions. 
It is precisely, for this reason, that as women age and begin to encounter issues like fatigue, mood swings and weight gain, it's important to speak with an experienced medical team that can help guide you towards better health, which typically includes a reduction, reversal or erasure of symptoms related to aging.
Once the doctor determines if your testosterone is too high or too low, you'll be able to be prescribed a personalized therapy to correct the imbalance.
Regardless if your levels are high or low, if you are suffering from any of these symptoms, particularly during middle-age, bioidentical hormone replacement therapy (BHRT) is a frequently-used method to treat women who have low testosterone levels.
Hormone Replacement Therapy
For years, hormone replacement therapy to increase testosterone levels in women has been an effective strategy to alleviate symptoms and improve long-term health. Along with great nutrition, an exercise regimen, and a stress management plan, your physician will prescribe a customized hormone replacement therapy that addresses your particular deficiencies.
It may be possible you may need a cocktail of hormones because testosterone may not be the only hormone that is out of balance. Diagnostic testing will confirm your overall hormonal status. With the excellence and advances of modern medicine, everything now can be customized for the safest and most effective care.
Benefits of Hormone Replacement Therapy
Once on hormone replacement therapy, a woman can really begin to enjoy her renewed energy levels, a healthy sex drive, an enhanced metabolic state, stronger bones, increased lean muscle mass, and an improved sense of well-being.
For women on medically supervised HRT programs, they can expect benefits like:
Stable emotions especially during PMS and perimenopause

More physical endurance

Heightened athletic performance

Improved sleep patterns

Less anxiety
Side Effects of Hormone Replacement Therapy in Women
According to Harvard Medical School, high doses of testosterone therapy can have negative effects on women. This is why it's very important to treat your hormonal imbalance under the supervision of an experienced medical team that specializes in hormone therapy.
Because the goal is to normalize your hormone levels, we often begin with the lowest precise doses in order to better manage the symptoms of the imbalance while avoiding possible side effects.
Keep in mind that each woman is unique and will react differently to hormone therapy. Our medical team, including our experienced Wellness Concierges, will closely monitor your progress to make any necessary adjustments to ensure you gain all the benefits without causing undesired effects.
How to Find Women's Hormone Therapy
Bioidentical hormone replacement therapy has been pivotal for providing comfort and relief for millions of women. If you suspect a hormonal imbalance, it is important to see a physician as soon as possible and be tested for a potential testosterone deficiency to avoid prolonging your symptoms or causing irrevocable harm.
If you are experiencing any symptoms related to or suspected of being caused by a hormone imbalance, then we encourage you to reach out and speak with one of our dedicated Wellness Advisors. They're knowledgeable and are happy to answer any lingering questions you may have as well as to help you get set up for your first appointment or consultation. 
Call us today at 305-682-1818 to get started.
References
https://www.medicalnewstoday.com/articles/276013 
https://www.healthline.com/health/womens-health/do-women-have-testosterone 
https://www.healthline.com/health/low-testosterone-in-women 
https://www.mayoclinic.org/diseases-conditions/pcos/symptoms-causes/syc-20353439 
https://www.webmd.com/menopause/guide/guide-perimenopause#1 
https://www.health.harvard.edu/womens-health/testosterone-therapy-is-it-for-women 
https://www.mayoclinic.org/diseases-conditions/menopause/expert-answers/testosterone-therapy/faq-20057935
Call or text (305) 682-1818 or complete a Free Consultation Form