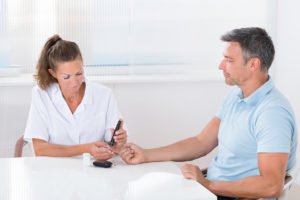 Diabetes and human growth hormone have a very delicate relationship, and many patients have been curious about HGH therapy if they have this disease.
Growth hormone presence results in the activation of a chemical called IGF-1, which is closely tied to the activity of insulin.
This substance helps to divert sugar to be used by muscles for growth, and muffles insulins ability to function properly.
Growth hormone treatment for men with diabetes is completely safe under the care of our professional hormonal therapists. Individually crafted treatment plans that closely monitor the hormonal balances in your body are the key to reaping the anti aging benefits of growth hormone without affecting insulin function in your body.
If you are a diabetic, you have probably had to learn to cope with the effects of your disease and continuously learn how it affects many of the other processes in your body. Diabetes occurs, the majority of the time, in men and women over the age of 35. This has multiple causes, including a natural decrease in your body's ability to recover and heal due to a decrease in natural hormone production. Taking the effect diabetes has on the body as a whole into account, let's take a closer look at the link between human growth hormone and diabetes.
Growth Hormone and IGF-1
One of the key aspects of human growth hormone (HGH) is its activation of Insulin-Like Growth Factor, or IGF-1.
This chemical is responsible for multiple functions in the muscle and fat metabolism, and as the name implies, it is tied with the function of insulin.
It acts by triggering increased uptake of nutrients in the muscle while simultaneously utilizing fat stores as an energy source during exercise.
Similar in structure to insulin, IGF-1 is a protein that helps increase anabolic growth as well as the helping to increase the amount of fat burned overall by the body's metabolism. IGF is responsible for all of the cell-growth inducing effects that HGH is known for, as it is the chemical response that is produced by the liver after the pituitary gland secretes HGH into the bloodstream.
The Growth Hormone and Diabetes Link
Due to its activation of IGF-1, growth hormone can directly affect the way in which insulin is able to maintain healthy blood sugar levels. IGF-1 facilitates growth, and it achieves this by diverting sugar stores to muscles that are recovering from exercise. As a result, it also causes insulin to have a reduced ability to break sugar down, as the IGF-1 needs it to provide to muscles.
This is critical, because it illustrates how sensitive these bodily processes are. In addition, they also explain the dangers of incorrectly administered growth hormone therapies. This is why human growth hormone should only be administered under the supervision of a hormone specialist, like the medical experts at HealthGAINS.
In excess, growth hormone treatments can cause an over-activation of IGF-1, and as a result, a very diluted ability for insulin to break down sugar in the blood. In the past, physicians would provide pre-determined prescriptions for patients, and this would occasionally result in an excess of growth hormone to the body, and would hence increase the risk of getting diabetes in these patients. It is imperative to ensure that you are receiving individually tailored and professionally guided treatment, like that provided by the hormone specialists at HealthGAINS.
Benefits of Hormone Therapy
The key point to remember about HGH is that it does not directly increase strength like testosterone. Rather, it increases the cell's growth capabilities and the metabolic activity associated with growth.
The use of HGH by age management physicians has become increasingly widespread due to an influx of studies done recently that provide ample evidence of GH's advantages. HGH doctors and their patients continue to document and report many positive benefits of HGH therapy, including:
For a free consultation, call (305) 682-1818
Improved fat metabolism, resulting in a leaner body and increased energy levels
More restful sleep, resulting in improved brain function, decreased risk of obesity, and more positive mood
Improved sex drive and sexual performance
Cardiovascular benefits, including improvements to cholesterol levels and immune system.
In addition, HGH has also been shown to:
Help lower blood pressure
Help lower cholesterol
Decrease insulin resistance
Improve bone density
Increase lean muscle mass
Increase skin health
Slow hair loss
If you have diabetes, then you understand the sensitive nature of your body's metabolic processes. This makes it crucial to trust professionals who will treat you as an individual and ensure that you are receiving the anti aging benefits of growth hormone therapy without affecting your diabetic condition. The medical professionals at HealthGAINS have been optimizing hormone for more than 15 years, and they are here to help.
Call 866-540-3555 to get started.
Call or text (305) 682-1818 or complete a Free Consultation Form