Human Growth Hormone Therapy in Charlotte
HealthGAINS is a pioneer in the hormone therapy industry. Headquartered in Miami, HealthGAINS is innovating hormone treatments to better serve patients of all hormone deficiencies, ages, genders, and conditions. No deficiency is too small to treat or too severe to improve. Our HGH clinics focus on utilizing the safest forms of hormone treatments in bioidentical hormone therapy to best serve our patients' health needs without placing them at risk. If you are noticing the life-altering side effects of an HGH deficiency, contact your local Charlotte HealthGAINS clinic today.
For a free consultation call (305) 682-1818
What is HGH Therapy?
Human growth hormone therapy is the process of testing for growth hormone deficiencies and treating any existing deficiency with an injection of either HGH or a growth hormone-releasing peptide. Treatments are focused on achieving a healthy balance of growth hormone levels in the body in order to receive the full benefits that growth hormones provide.
Hormones play an important role in our daily lives as the messengers that trigger nearly all of our body's processes. Hormones like HGH play a key part in our body's immune health, cardiovascular strength, skin health, muscle production, bone density and a number of important processes. HGH therapy works to make sure that our bodies are not missing out on these key functions by keeping the body's HGH levels high.
As we age, our bodies start to slow down in their production of key hormones such as HGH. HGH therapy is simply the process to account for these drops in hormone creation by adding external hormones or promoting sufficient hormone growth.
Hormone Therapy Specialist Near Me (305) 682-1818
Human Growth Hormone Deficiency Symptoms
As mentioned, growth hormones play a major role in our body's overall function and health. If we experience a deficiency in growth hormones, we will likely feel what is commonly referred to as the effects of aging. Regardless of your age, HGH therapy can help relieve you of these side effects that come with an HGH deficiency –
Worse skin health
Extended recovery from injury or illness
Patients' metabolisms will slow leading to weight gain
Decrease in bone density and muscle mass
Sexual health issues for men
Drop in natural libido
Fatigue and weakness
Decrease in energy and overall stamina
Slower brain function
Click to contact our specialist today
The Benefits of HGH Treatments
By replenishing the body's growth hormone levels, HGH treatments give patients the chance to feel young again. For that matter, they can act and look young again with the benefits that come with growth hormone injections –
Increased energy levels and stamina
Healthier sleep – better mood, better brain function and a lowered chance of obesity
Maintain a healthy sex drive
Patients will have an improved immune system
The cardiovascular system will be stronger
Healthier blood pressure and cholesterol levels
Less resistance to insulin
Patients will have healthier, tighter skin
Not losing head hair as quickly
Increased muscle mass production and bone density
Complete a Free Consultation form now
How Women Benefit from HGH Treatments
We have treated many women at our Charlotte HGH clinics with great success. Women of all ages and lifestyles have reported renewed strength, higher energy levels, better focus at work and home, improved sleep habits and a general sense of better health. Whether you are looking to look or feel younger, HGH therapy can help you live your best life.
How an HGH Treatment Benefits Men
Men can not only reap all of the same benefits of HGH therapy as women, but for men that are experiencing erectile dysfunction as a result of their HGH deficiency, HGH therapy can also remediate their symptoms of impotence and return them to their best sexual health. Reach out to your local HGH clinic in Charlotte to start your growth hormone treatment process. Within weeks you will start to feel the noticeable changes of renewed strength, energy and so much more.
The Different HGH Treatments in Charlotte
HGH treatments come in one of two forms – direct growth hormone injections and growth hormone-releasing peptide treatments. Both are extremely successful in achieving powerful and lasting results.
If you choose our Charlotte HealthGAINS clinic, you will receive the safest form of HGH therapy in the country in bioidentical HGH therapy. Bioidentical hormones are derived from nature and offer few side effects and plenty of lasting benefits. Schedule a consultation to discuss which of these treatments will be right for you.
Ipamorelin Injections – Ipamorelin is the newest form of HGH therapy and is developed to be the safest and most effective treatment for growth hormone deficiencies to date. Ipamorelin is a form of growth hormone-releasing peptides (GHRP) that triggers the body's own growth hormone-producing process in order to achieve a healthier level of HGH in the body. By relying on the body's own processes, Ipamorelin is extremely safe and effective at giving patients the results they desire without the risks of harmful side effects.
Sermorelin Injections – Another great form of GHRP, Sermorelin has been used for years to offer patients a more natural solution to HGH deficiencies. Releasing growth hormones into the body, Sermorelin provides patients with the HGH levels they need to maintain a healthy metabolism, sleep better and have the energy to get through a full day.
HGH Therapy – As we age, our bodies begin to slow down in their production of growth hormones. These hormones keep us strong and healthy. Thus when we begin to drop our HGH levels, we begin to feel the effects of "old age." HGH therapy is the most direct form of treatment for patients with low levels of growth hormones. A simple injection of bioidentical growth hormones into the body is all that is needed to compensate for the body's decrease in HGH production.
See how Human Growth Hormone Therapy changes this patient's life: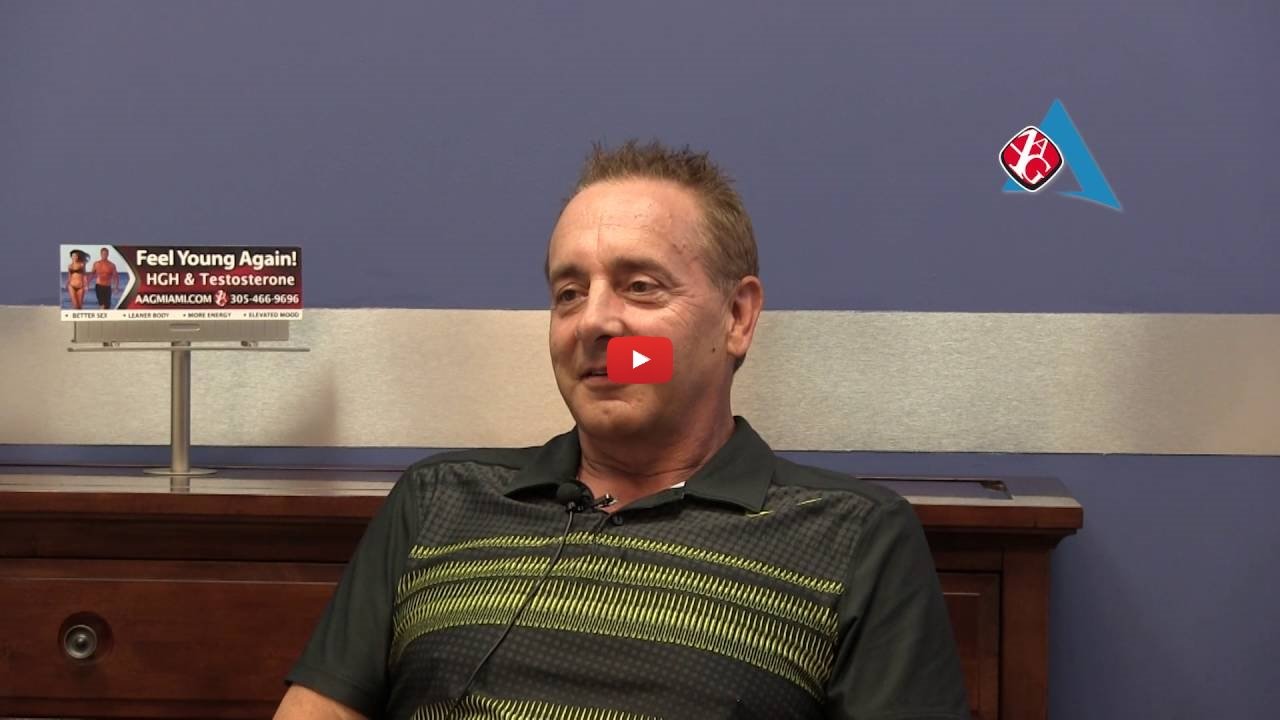 Side Effects of Human Growth Hormone Therapy
While it is rare, patients can experience some side effects of growth hormone therapy. What increases the risk of side effects from HGH therapy is the practice of abusing HGH treatments for physical gain. Many athletes over the past few decades have utilized illegal forms of growth hormones to try to attain a physical edge over their competition. When receiving an HGH injection when you don't have a deficiency, you introduce an excessive amount of growth hormones into the body, which can lead to serious side effects like swelling, numbness, nerve pain and high cholesterol. Receiving treatments from less practiced clinics can also increase a patient's risk of experiencing side effects from HGH therapy.
Our HGH clinics in Charlotte and throughout the U.S. maintain the highest level of medical excellence by sticking to strict guidelines for HGH therapy and utilizing the safest forms of hormone treatments in bioidentical hormone therapy. By testing patients thoroughly and only administering the proper dose of safe, bioidentical hormones, we have nearly eliminated all risks of side effects at our many HGH clinics throughout the country.
Charlotte HGH Therapy Consultation
Your HGH consultation will consist of testing your growth hormone levels, informing you of the different treatment options and scheduling a date for treatment based on the treatment plan you have developed with your Charlotte HGH doctor.
First, your doctor will take the time to get to know your unique situation by listening to your symptoms and going over your medical history. Next, the doctor will administer a blood test to get a definitive look at the severity of your deficiency. After analyzing the results of your blood test, the HGH specialist will take the time to explain how each treatment option will benefit your growth hormone needs. Once you've decided upon the proper procedure to treat your HGH deficiency, you schedule your treatment and be one step closer to experiencing relief from your symptoms.
Reviews for Charlotte HGH Treatments
"HGH therapy gave me back my life. I felt like I was declining into old age and I wasn't ready to accept that the recliner would be my new home. I looked around age-management procedures in Charlotte and thought that I should address my symptoms at their source – low hormone levels. After my treatment, I felt 20 years younger. My Sermorelin treatment started working around 2 weeks after my appointment and it hasn't stopped giving me renewed energy and strength." — Juniper R., 71
"As a new grandma, my favorite job is watching my new little baby girl. The only problem is that my focus has not been what it used to be. If I wanted to continue to be an active part of my granddaughter's life moving forward, I knew I needed to do something about my mental fogginess. I met with the HGH specialist and she showed me that my growth hormones were low and that it was affecting my brain. It's been 8 months since my treatment and I feel as sharp as ever." — Mary Y., 56
"As a business owner, every day requires my full attention. When I couldn't keep up with all of bustle, I had to do something about my focus and energy. A friend recommended HealthGAINS for their growth hormone treatments. From the moment I walked in the doors of their clinic, I knew I was in good hands. It's been 3 months since my treatment and I've already made up for months of backlogged orders." — Duwaine C. 49
Watch this testimonial to see how Hormone Therapy for Men helped this patient: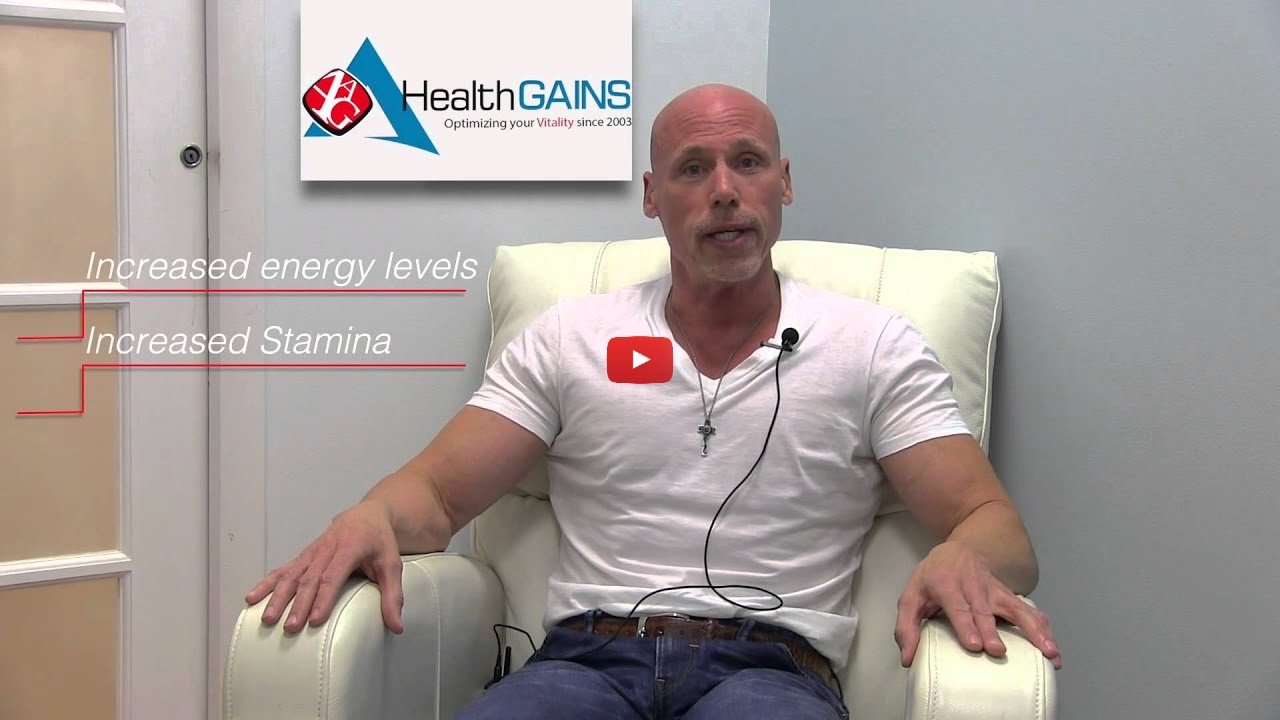 Find a Charlotte HealthGAINS Clinic Near You
If, "Where can I find an HGH clinic near me?", has been on your mind, then you are in the right place. HealthGAINS has HGH clinics conveniently located in Charlotte to service the needs of HGH deficient patients throughout the metro area. HealthGAINS provides the best hormone therapy experience that you can find in the greater Charlotte area. Stop by one of our clinics or call our office to schedule an appointment to see what an HGH therapy treatment from HealthGAINS can do for your health.
Charlotte HGH Treatment FAQs
Am I too old for HGH therapy?
Nobody is too old for HGH therapy per se. At HealthGAINS, the treatments are extremely natural and utilize bioidentical hormones to promote patient safety for people of all ages and medical conditions. We have successfully treated many patients over the age of 90, so no patient should feel as though they are too old to receive the benefits of HGH therapy.
What is the cost of HGH therapy in Charlotte?
In Charlotte, patients can expect to pay anywhere from $600 to $2,500 for their HGH treatment. The typical male patient in their 40s or 50s will pay somewhere around $1,500 depending on their condition. Female patients in their 40s or 50s can expect to pay around $1,200.
Ultimately the cost of HGH therapy in Charlotte will depend on the patient's needs and the severity of the deficiency being treated. Schedule a consultation to meet with one of our hormones specialists to determine a true quote for your growth hormone treatment.
Does a growth hormone imbalance cause weight gain?
Yes. Growth hormones play a key part in our body's weight management by controlling our metabolism. If we are deficient or imbalanced in our hormone levels, we will not be able to breakdown fat the same as when we are completely healthy.
When will I start to notice the results of my HGH treatment?
Patients should expect to wait 2 weeks before seeing results from their treatment. As HGH therapy is a very comprehensive procedure, it can take some time for the effects to successfully and safely take effect. For the full benefits of your HGH therapy, you may still achieve results as late as 8 weeks after your treatment.
Do I need a prescription for HGH therapy in Charlotte?
Yes. By law, patients are required to receive HGH therapy from a doctor for a necessary medical reason, such as a hormone deficiency. The Controlled Substances Act limits the use of HGH to protect patients from receiving unnecessary or unregulated doses of growth hormones. For your safety, it is best that you pursue only certified HGH doctors who prescribe HGH in Charlotte for your treatment.
Visit our Charlotte HGH Clinics to Receive the Safest and Best Care for Your Deficiency
Our HGH specialists in Charlotte are poised to treat your human growth hormone deficiency. Contact your local Charlotte HealthGAINS clinics at (866) 540-3555 to receive the best possible care in your area.
Charlotte Hormone Clinic Locations
Offering HGH therapy treatments in Charlotte for patients with declining levels of growth hormones. Our Charlotte HGH clinics service Charlotte and these surrounding suburbs: Harrisburg, Concord, Mt. Holly, Gastonia, Dallas, Belmont, Stanley, Lowesville, Mint Hill, Matthews, Pineville, Weddington, Monroe, Midland, Davidson, Indian Trail, Wingate, Allen and Woodford Green.
1718 East 4th Street Ste 302 Charlotte, NC 28204
300 Billingsley Rd Ste 200a Charlotte, NC 28211
8401 Medical Plaza Dr. Ste 140 Charlotte, NC 28262
5031g W Wt Harris Blvd Charlotte, NC 28269
10320 Mallard Creek Road 180 Charlotte, NC 28262
10512 Park Rd Ste 107 Charlotte, NC 28210
1500 Matthews Twnshp Pkwy 1147 Matthews, NC 28105
15830 Ballantyne Med Pl Ste140 Charlotte, NC 28277
10030 Gilead Road Ste 100-B Huntersville, NC 28078
5933 Blakeney Park Dr Unit A Charlotte, NC 28277
16525 Holly Crest Lane 250 Huntersville, NC 28078
640 Summit Crossing Pl Ste 206 Gastonia, NC 28054
2460 India Hook Rd Ste 101 Rock Hill, SC 29732
478 Copperfield Blvd Concord, NC 28025
134 Medical Park Rd Ste 102 Mooresville, NC 28117
North Carolina Hormone Clinic Locations
Call or text (305) 682-1818 or complete a Free Consultation Form