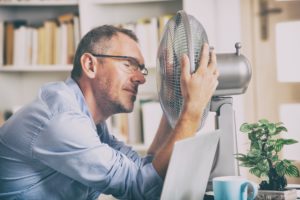 What Are Hot Flashes, Anyway? A hot flash is a surging feeling of heat that is not related directly to your environment or current activity. Hot flashes are typically characterized by the fact that they suddenly appear, which can cause some alarm for those unaccustomed to them.
Can Men Have Hot Flashes?
Men can have hot flashes, and they occur when a man has low levels of testosterone. The medical community has known that women experience hot flashes when they are going through menopause, but now we know that men have hot flashes too.
Hot flashes present themselves in the area of the head and throughout the torso, and they can cause a man to turn red. Most of the time, men experience hot flashes in the evening hours, and they cause them to sweat. In most cases, hot flashes don't last any longer than four minutes. Some people experience hot flashes on a very frequent basis, but others only get them every once in a while. 
For a free consultation, call (305) 682-1818
What Can Cause Hot Flashes?
Similar to how drops in estrogen can trigger hot flashes in women, men can also experience hot flashes as a result of the reduction in their main sex hormone, testosterone. For many men, the onset of hot flashes can be tied to their naturally occurring testosterone levels, which begin to decline at the age of 40 and continues to do so at a rate of about 1% to 2% per year. 
Why Does It Matter?
It matters because low testosterone levels cause several unpleasant symptoms, including low libido, depression, and fatigue. When testosterone is low, men also have hot flashes, which can be very uncomfortable and interfere with normal, daily activities.
Click to contact our specialist today
What Are Your Levels?
Testosterone levels within the normal range start at approximately 300 ng/dL and end at around 1,000 ng/dL. If your doctor suspects that you have low testosterone levels, he or she will test your blood, and if your level is lower than 300 ng/dL, your doctor may diagnose you with "hypogonadism." This is the technical term for low testosterone levels.
Complete a Free Consultation form now
Are There Exceptions?
One prominent exception to the rule is for men diagnosed with prostate cancer. Testosterone promotes the growth of prostate cancer, so physicians treat this disease by reducing the amount of testosterone in the body. Known as "androgen deprivation therapy," this treatment blocks the harmful effects that testosterone has on a man's prostate. If a man receives androgen deprivation therapy, he is very likely to experience hot flashes.
How Do Hormone Imbalance Cause Hot Flashes?
When men begin to receive androgen deprivation therapy, their testosterone levels fall, and this is the reason that doctors believe that their patients begin to experience hot flashes. Because of the therapy, there is a hormone imbalance with testosterone at lower levels than is optimal for a healthy male.
The reason that this happens is that a man's blood vessels grow wider when the nervous system sends signals for this to occur. As the man's blood vessels widen, the hot flashes begin to appear, but the body reacts to this by converting the hot flash into a cold sweat.
What Are the Benefits of Hormone Therapy?
Once a man's treatment with androgen deprivation therapy ends, the hot flashes will stop after three or four months have passed. If his treatment is ongoing, he may continue to experience these symptoms.
What Are the Treatments for Hormone Imbalance?
If you are experiencing hot flashes because of your androgen deprivation therapy, you cannot have testosterone therapy to increase your testosterone levels. However, physicians treat their male patients by prescribing the same hormones that they prescribe for women experiencing hot flashes due to menopause. For example, male test subjects received estradiol to treat their hot flashes, and they experienced relief. Estradiol is the main type of estrogen that runs through a woman's body.
Is Hormone and Testosterone Therapy Safe?
For millions of men and women around the world, hormone (HRT) and testosterone (TRT) replacement therapy has been a boon to their health and wellbeing. When used as part of a comprehensive health and wellness strategy, like the ones we create for our patients at HealthGAINS, treatment is both safe and dramatically effective.
Are There Side Effects on Hormone Therapy?
No medical therapy carries zero risks. Rarely during medically supervised therapy, side effects can manifest, highlighting the importance of having a knowledgeable team behind your treatment who can monitor your health and progress, while offering adjustments to deal with any unforeseen side effects. 
Some of the reported side effects of hormone therapy include:
swelling and tenderness of their breasts

weight gain and bloating

dizziness,

nausea, 

vomiting, 

blurred vision, 

extreme hunger, 

frequent urination and 

leg pain.
With so many advances in medicine happening today, there is no longer a reason to accept symptoms like hot flashes and poor libido as a normal part of life. With a comprehensive program and a supportive staff made up of medical professionals, wellness advisors, your own personal medical concierge, and a little bit of work, you can absolutely achieve your health and wellness goals in short order.
If you're ready to feel like your best self, give us a call at 305-681-1818 today to get started or to learn more from our dedicated team of wellness advisors
References:
Call or text (305) 682-1818 or complete a Free Consultation Form