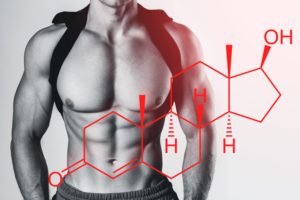 What Is Growth Hormone?
Growth hormone is a protein that the body makes in the pituitary gland. The hypothalamus creates several hormones that control the production of growth hormone and secretes the protein into the bloodstream for use throughout the body. The pancreas and the intestinal tract also produce some of the growth hormones, but in typically lower concentrations.

For most, the natural levels of this hormone rise and fall throughout the day because some activities have been known to cause the amount of GH to increase. For example, you will have more of the hormone after you have been exercising or after you experience a traumatic event.
It's precisely for this reason that deficiency in naturally occurring growth hormone is so difficult to diagnose.
On average, the pituitary gland produces more GH while you are sleeping. As a child is growing, GH production increases and peaks after the child reaches puberty. Once you have reached middle age, GH production starts to decrease.
For a free consultation, call (305) 682-1818
Why Does This Hormone Matter?
During childhood, this hormone is critically important because it is what makes it possible for a child to grow normally. It continues to be necessary in adults because it the reason that all of the tissues in your body can be stimulated to grow. The bones are just one example.
When there is a growth hormone deficiency, adults experience several symptoms, and one of those symptoms is depression. There can also be too much of this hormone in a person's system. In most cases, this is because there is a tumor on the pituitary gland, and it may lead to the growth of the hands, jaw, feet, tongue, liver, heart and kidneys. The condition, known as "acromegaly," may also cause diabetes mellitus, arthritis, cardiovascular disease and hypertension.
The importance of this hormone for aging was seen in a study that researchers performed after 1989. The 220 male subjects were older and slightly overweight. The group that received treatment with the hormone gained an average of 4.6 pounds of lean body mass and lost about as much body fat at the same time.
What Causes Growth Hormone Deficiency?
There can be multiple causes for a deficiency in growth hormone including age, injury, stress, inflammation, disease or cancer of the hypothalamus or pituitary gland and sleep among others.
Occasionally, radiation therapy and certain diseases including tuberculosis, sarcoidosis and Langerhans cell histiocytosis can cause this condition.
Click to contact our specialist today
Does It Matter if My Levels of Human Growth Hormone Are High or Low?
The amount of growth hormone produced and used by the body can cause a whole host of abnormal conditions. That is why it is vitally important to not only diagnose abnormal levels, but also treat them aggressively to avoid other health complications.
Typically, the normal range of growth hormone for men is 0.4 to 10 ng/mL or 18 to 44 pmol/mL.
Low Levels of HGH
Low levels of HGH are particularly concerning because it can lead to equally negative health conditions including increased body fat, decreased sexual function and desire and has even been known to cause anxiety and depression in some people.
The signs and symptoms of abnormally low human growth hormone levels include the following:
Reduced bone mass that leads to multiple fractures.
Reduced muscle strength that prevents you from exercising as vigorously as you did in the past.
A reduced amount of muscle mass.
Increased sensitivity to extreme temperatures.
Feeling as if you are isolated from friends and family.
Feeling tired.
A lower sex drive.
Anxiousness and depression.
Weight gain with most of the fat gathering in the midsection.
Differences in your cholesterol levels.
In addition to the symptoms listed above, you may have a higher triglyceride level. This is the type of fat that circulates within the bloodstream and tends to clog your blood vessels in a condition called "atherosclerosis."
As the fats accumulate, they can prevent blood from flowing freely through your blood vessels, and it can cause blood clots. This may cause highly serious conditions, including chronic kidney disease, aneurysms, peripheral artery disease, carotid artery disease and coronary artery disease.
Complete a Free Consultation form now
What's the Diagnosis?
At HealthGAINS, your physician will diagnose your condition based on a variety of factors including injury or surgery, disease. Typically, an in-depth blood test will be required to properly diagnose and treat low levels of HGH in a patient.
How are HGH Disorders Treated?
If you are found to have a growth hormone deficiency, we may look to address the deficiency using a variety of treatments including the prescription of regular doses of HGH to bring the body back to normal levels.
Treatment can typically last between four to eight weeks, with follow-up and fine-tuning if necessary for long-term therapy.
Unlike other treatments, HGH deficiency can only be treated by injection. There is no effective oral or topical medication for restoring human growth hormone levels to normal.
What Are the Benefits of Growth Hormone Therapy?
For millions of people, HGH therapy has been able to affect change on a fundamental level. The restoration of their health and the alleviation of many maladies makes HGH one of the most popular and effective treatments available.
Some of the more notable benefits include:
Increased bone strength.
Increased muscle mass.
The ability to exercise longer with an increased amount of energy.
A decreased risk of heart disease.
Is It Safe?
In most cases, people take injections without experiencing any side effects. The FDA approved several types of hormone replacement treatments for adults with this deficiency, so it is safe for human consumption.
Are There Side Effects?
As with any medical treatment, there are some risks of developing side effects. These can include elevated blood sugar levels, carpal tunnel syndrome, muscle pain and joint pain. In some, there is also a risk of developing anemia, weight gain, high blood pressure, adrenal insufficiency, vomiting, edema of the arms and legs, tonsillitis, dizziness, a sleep disorder, indigestion and back pain.
At HealthGAINS, our expert team of medical professionals are highly trained with decades of experience in mitigating and avoiding these unwanted side effects through precise medical treatment.
Who's a Good Candidate for HGH Therapy?
Only a doctor can determine if HGH is right for you. At HealthGAINS, our expert team of medical experts will examine your health and goals and propose the most appropriate form of treatment to provide positive outcomes.
Typically, if you have experienced cancer, traumatic injury or recent surgery, your HealthGAINS physician will offer a more comprehensive treatment plan that may or may not include HGH as part of it.
How Long Will It Take to See the Results?
How long it may take to see results will depend on several factors, and since everyone is different, this will mean that people will see results at different times. For example, your results will depend on your age, the state of your health, the time it takes your body to absorb the substance, your body's response to the substance and your injection schedule.
How Can I Get Help?
If you or a loved one suspect that you may be suffering from abnormal levels of HGH, we encourage you to give us a call today. Our expert team of medical professionals are ready to apply their decades of expert experience to help get you feeling your best again. Call 305-682-1818 or use the form to get started today.
References:
Call or text (305) 682-1818 or complete a Free Consultation Form