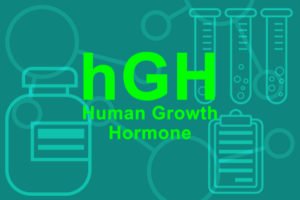 Human growth hormone (HGH) can be taken orally, but the pill form will likely not produce any beneficial results. Mayo Clinic says that HGH is only effective when given as an injection, but not as a pill or in any other form. This authoritative medical organization says that authentic HGH is not available in pill form. Also, since HGH is a controlled substance, the only legal way to obtain it is through a prescription by a medical doctor.
Products that claim to contain HGH in another form, like pills, powders, shakes, nasal sprays, or other forms, either do not contain any HGH or they contain the substance illegally, without government approval. If something claims to have HGH but does not require a doctor's prescription, the product is illegal and could be harmful to one's health.
These illicit products do not have government oversight, which means that they are not tested by the government to determine what chemicals they contain. A person might ingest dangerous substances, thinking that he is taking a less expensive form of HGH.
Some people sell supplements online under the promise that, although the item does not contain HGH, the product can cause the body to make more of its own. Mayo Clinic says that research does not show any such benefit from these over-the-counter products.
Fake Online HGH Supplement Scams
People tend to think of young athletes as those most likely to try to get their hands on HGH at the lowest price possible. Yet, online scammers rip off older adults to the tune of millions of dollars a year on products like this. The American Association of Retired Persons (AARP) warns that so-called HGH supplements that a person buys online or from an email solicitation that promises results "too good to be true" are fraudulent.
The Federal Trade Commission (FTC) bought some of these products and had a laboratory analyze them. The FTC had safety concerns about the unregulated and illegal sale of controlled substances like HGH through online merchants. Not one of these items actually contained any HGH.
According to Harvard Health Publishing, even if a pill does contain real HGH, the product is entirely ineffective and useless. The enzymes in the digestive tract degrade the HGH in the intestines and make it incapable of offering any of its touting benefits. Buying HGH in any form other than injection is, unfortunately, a waste of money.
Experts also warn about the risk of dangerous contaminants in over-the-counter products that claim to contain HGH. The government does not regulate these non-prescription products, so a person has no way of knowing if the pill or powder he took has life-threatening implications. So yes, one can take HGH orally, but it is not a good idea.
For a free consultation, call (305) 682-1818
The Security Risk of Buying Fake HGH Supplements Online or by Email
When you make a remote purchase, rather than face-to-face in a physical store, you have to provide personal information to the seller. This data can include things like your name, address, email address, and telephone number, in addition to your credit card information.
Some identity thieves run a double scam. They sell useless products, and then turn around and use the purchaser's personal and financial information to perpetrate identity theft. The scammers can open credit cards in the victim's name, run up charges on new accounts, or use the credit card used in the purchase of the fake HGH.
In some situations, the scammers never ship the product to the customer. The victim of the scam does not receive the item he purchased, and the identity thieves turn his financial world upside-down. It can take years to recover from identity theft, and even then, people often experience ongoing problems.
How to Get Injectable HGH by Prescription
HealthGAINS only administers real HGH. They do not believe in the effectiveness of HGH taken orally. Their certified HGH physicians administer the growth hormone therapy by injection and prescription only. HealthGAINS only uses bioidentical hormones that pose no threat to the human body.
HealthGAINS does not administer HGH in the forms of pills, powders, shakes, nasal sprays, or other forms. There is no need to waste money on products that are harmful or do not work. HealthGAINS is staffed with medical professionals who have been helping patients for decades.
Since health and safety are HealthGAINS' top priority, when a patient visits the facility, they cannot get HGH prescriptions without first undergoing a medical workup. After a patient's initial consultation, they will undergo a physical examination and have a blood sample drawn. After their doctor gets the results of these lab tests, they will receive a customized treatment plan that suits their needs.
To learn more, call HealthGAINS today at (305) 912-8828. There is no charge for the initial consultation and no obligation.
Call or text (305) 682-1818 or complete a Free Consultation Form