There is no consensus on whether men with low testosterone face an increased risk of getting COVID-19. Various medical studies conflict with each other. It will take a long time before we know enough about this disease to get a definitive answer.
Some journals suggest that low testosterone levels in men could be a danger. Other studies suggest that higher testosterone levels could aid in the development of the disease. Research on this issue is in its infancy. Over the coming months and years, we hope to have more evidence-based answers.
Conflicting Medical Studies
One medical study reported in Metabolism: Clinical and Experimental says that a majority of male patients who seek treatment for COVID-19 have low testosterone levels. However, the study goes onto say that low testosterone levels come with age, and COVID-19 hits older people harder.
Men in all age groups have much higher death rates from COVID-19 than women. In fact, about 58% of patients with COVID-19 are men.
For example, here are the COVID-19 death rates the study reported by age group and gender:
Males Age Group
82.4% 30 – 39 years old
73.1% 40 – 49 years old
78.5% 50 – 59 years old
79.7% 60 – 69 years old
79.6% 70 – 79 years old
66.9% 80 – 89 years old
The idea of men with low testosterone levels being at an increased risk of getting COVID-19 may simply be a correlation and not causation. Often, men with low testosterone levels are at an advanced age or have diabetes, obstructive sleep apnea, and reduced exercise capacity. These conditions can put a man at risk for various health concerns, including the possibility of COVID-19.
For a free consultation, call (305) 682-1818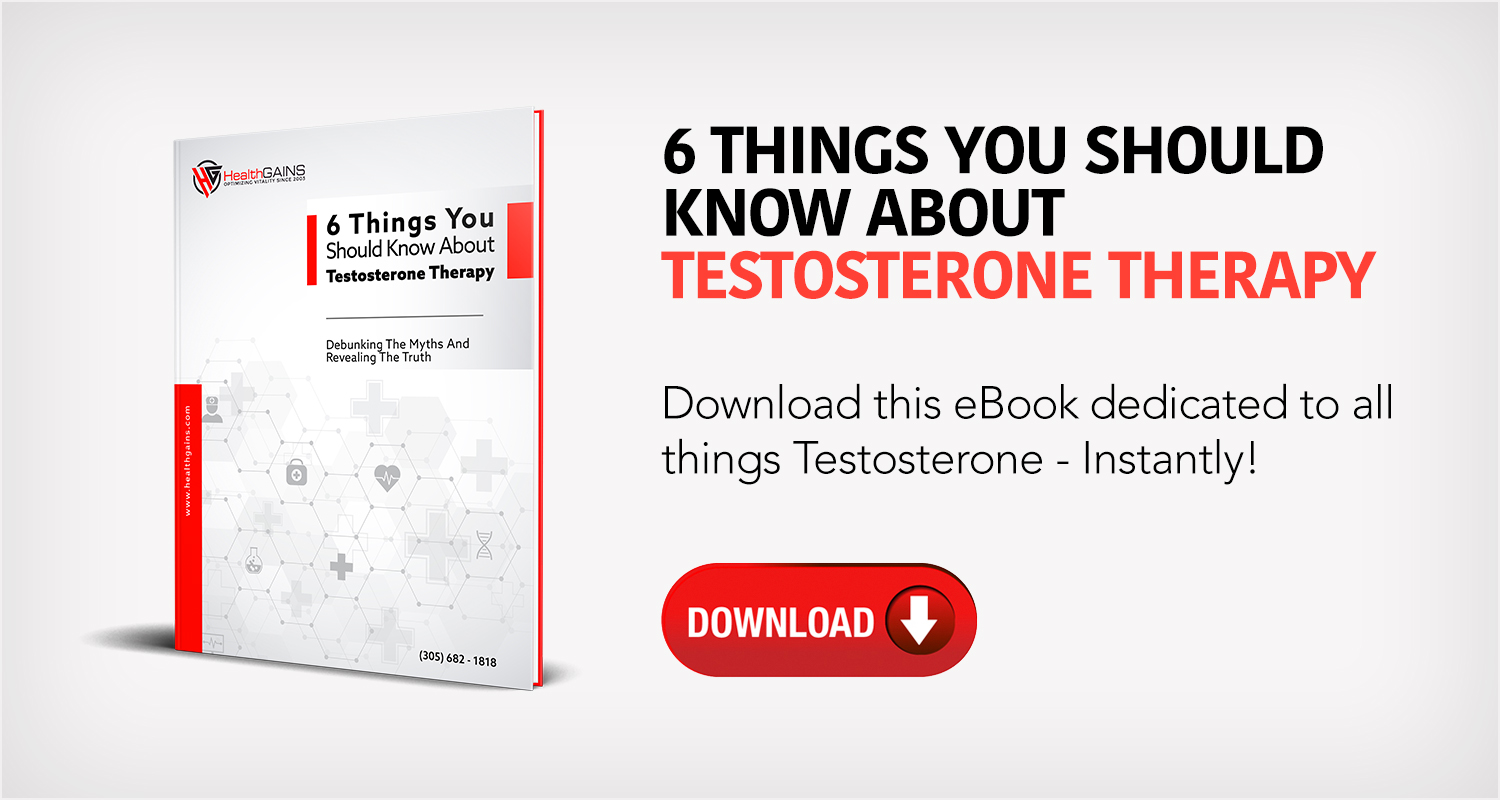 Men With Active Lifestyles Are at a Lessened Risk of COVID-19 Development
When a man can and does exercise regularly, he might be less likely to experience the severe respiratory symptoms that can come with COVID-19. The study says that men who receive testosterone replacement therapy improve their peak oxygen consumption during exercise, a factor that can protect the lungs in the event of a respiratory infection.
The report also suggests that a decline in testosterone levels in older men can contribute to the amount of pro-inflammatory cytokines. Higher testosterone levels might be able to help regulate and suppress these cytokines. Metabolism: Clinical and Experimental contains a hypothesis that "testosterone may have a role in the cascade of events leading to the progression of COVID-19 infection due to the cytokine storm." For the sake of research, it might be useful to measure testosterone levels of confirmed COVID-19 patients.
Higher Testosterone Levels Could Aid COVID-19 Development
Metabolism: Clinical and Experimental discusses an opposing theory that higher testosterone levels might increase the risks and transmission of the COVID-19 virus. Higher testosterone levels might have a connection to "the androgen receptor activation of the transcription of a transmembrane protease, serine 2 (TMPRSS2)."
TMPRSS2 activity is necessary for the spread of the virus and the progression of the disease in infected patients. The study suggests that this factor might explain the much higher infection and death rates in men. Some researchers advocate clinical trials on the short-term use of TMPRSS2 inhibitors to try to prevent and treat COVID-19 pneumonia.
Click to contact our specialist today
Clinical Trials of Temporary Testosterone Elimination
According to Columbia University, studies regarding COVID-19 will start soon at three hospitals across the United States. These studies will involve temporarily reducing testosterone levels in men as a possible way to reduce the severity of COVID-19 and prevent the virus from spreading to the lungs. The theory behind the research is to suppress testosterone levels, thereby lowering TMPRSS2 proteins.
Columbia University says that the coronavirus uses ACE2 and TMPRSS2 proteins to invade cells in people. The hope is that short-term reduction or elimination of testosterone in men could keep the virus from entering lung cells. Because eliminating testosterone, even temporarily, is an extreme measure, the researchers will only use this technique on patients with serious illnesses.
Complete a Free Consultation form now
Call HealthGAINS To Promote Your Wellbeing
The jury is still out on whether men with low testosterone are at an increased risk of getting COVID-19. Researchers are looking for answers to this and many other urgent aspects of this disease.
At HealthGAINS, we place the highest priority on the health of our patients. We offer hormone replacement therapy to those who are suffering from low testosterone levels. We will continue to follow developments regarding COVID-19 as they arise. For more information or a free consultation, call us today at (305) 912-8828.
Call or text (305) 682-1818 or complete a Free Consultation Form