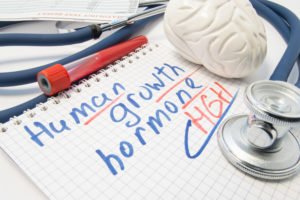 No scientific evidence exists that claims height can be increased after 25.
Sometimes people mistakenly think that they will grow taller in their thirties or forties if they take human growth hormone (HGH). It is true that growth hormone helps children grow from the size of an infant to an adolescent to an adult. However, once the growth plates in your bones close and you reach your full adult height, you will likely not grow taller.
What Determines Your Adult Height
Your genetic makeup determines the vast majority of your adult height. Between 60 and 85 percent of how tall you will get is due to genetics. Your environment controls the remaining 15 to 40 percent of your height, reports Forbes. Nutrition is the most significant environmental factor that determines a person's height.
If you received adequate nutrition and health care during your growing years, you will likely reach the height coded into your genes. Severe illness, malnutrition, and other factors in your environment can cause you to be shorter than your genetic potential.
For a free consultation, call (305) 682-1818
How HGH Can Help You Maintain Your Height
There is no evidence that HGH can make you taller after the age of 25. However, growth hormone injections can help strengthen your muscles and support bone health.
Many people lose height over the years as our vertebrae become thinner, according to Harvard Health Publishing.
Additional Benefits of HGH
People who take HGH injections report many benefits, including:
Weight loss
Improved metabolism of fat, carbohydrates, and protein
More stamina for physical activity
Better sleep, which leads to improved cognitive ability throughout the day
More energy to succeed at the office
More positive moods, which can help with relationships
Enhanced libido and sexual performance
Lower insulin resistance
Your pituitary gland makes human growth hormone. As we grow older, the pituitary tends to make less and less growth hormone. This event coincides with the point in life at which many people start to look and feel older. When people include HGH injections in their success strategy, they can experience:
Improved quality of life and well-being
Less depression
Improved skin tone
Fewer problems with sagging or flabby tissues
Healthier cholesterol levels, which can decrease the risk of cardiovascular disease
Every person is different, so results will vary. Your underlying medical conditions and genetics are factors that determine how your body will respond to growth hormone treatments.
Click to contact our specialist today
How the Human Body Grows
According to Johns Hopkins Medicine, we grow in height because our long bones have growth plates. Long bones have three primary parts:
The diaphysis (the long center shaft of a bone)
The epiphysis (the rounded area at the end of the bone)
The metaphysis (the wider region).
While a person grows throughout childhood, the long bones have a section near the end of the bone called the growth plate. The growth plate lies between the epiphysis and the metaphysis. Growth plates contain different material than bones. Growth plates are made of cartilage, which is flexible. Bones are rigid. Growth plates can get longer because they are rubbery, not rigid.
When a person stops growing, the growth plates become hard like the rest of the bone. The growth plates close and the metaphysis and epiphysis fuse into one bone; hence why it is atypical for someone to continue growing taller after their growth plates close.
Males usually stop growing around the age of 18, according to Parents.com. The age at which females reach their full adult height will depend on when they had their first menstrual cycle. About two to two-and-a-half years after that time, girls usually stop growing. Some people are "late bloomers" and do not hit their final growth spurt until their late teens or early twenties. After you reach your full adult height, you will not get taller.
Complete a Free Consultation form now
Learn About the Benefits of HGH Therapy
While your height cannot be increased after 25, there are several other benefits of HGH therapy. There is no reason to wait. Call HealthGAINS today at (305) 912-8828 to get started.
Call or text (305) 682-1818 or complete a Free Consultation Form